Fashion is all about evolution as women need to keep pace with the changing trends and more importantly, with their age. If you are over forty, you will know how important it is to keep your wardrobe chic and stylish yet age-appropriate. You will probably need to redefine your signature style as you step into this decade, which sounds like a humongous task. Fortunately, looking marvelous after forty is easy if you prioritize timeless style. Here are some tips that can help you realign your sartorial goals so that you are never short of attention.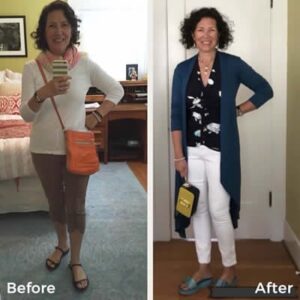 Pick solids overprints
Prints can get confusing after a certain age as you can never know what would look good on you. Neutral solids can come to your rescue because it's way simpler to look appropriate and elegant in them. Opt for outfits in solid black, navy, beige, white, and brown because you can re-wear them in multiple ways and accessorize them easily. It doesn't mean that you should ditch prints altogether- rather, choose safer options like polka dots and smaller floral prints.
Focus on quality, not numbers  
Once you are forty, you will probably know the value of embracing minimalism and this should reflect in your wardrobe as well. This is the best time to build a capsule wardrobe while focusing on quality rather than numbers. You can follow JustFab for some useful inspiration for the staples you must have in your capsule closet. Stick to around thirty pieces in your wardrobe, with basics and accessories to experiment with and create different ensembles for different occasions. With some creativity and a lot of practice, you will be able to ace your personal style sooner than you expect.
Fits matter the most
Your body changes once you step into the fourth decade, so you need to be extra attentive about fits. Anything that doesn't fit well enough isn't worth investing in because it cannot make you look good. Never buy before trying and pick an outfit only when you are really sure about the size. You may even have a shopping buddy or stylist to help you decide what fits the best. It is a good idea to opt for tailored clothing if you want perfection. Hemming your blazer by even half an inch or wearing even a size bigger can make all the difference.
Don't follow trends blindly
If you aspire to find your timeless style after forty, steer clear of following the trends blindly. It is easy to be tempted by the trend game but remember that trends are often youth-driven, which makes them less suitable for older women. At this age, you need to dress in outfits that make you feel confident, relaxed, and comfortable in your skin. Even if you feel like following the latest trends, follow your instincts and pick pieces that you look and feel good in.
These simple fashion rules can take you a long way ahead when it comes to looking good in your forties. So pick the right pieces and style them right, and you will surely win the sartorial game, regardless of your age.
Tammie~