What is zen? For me, it's the feeling of settling on my mat for my favorite after-work yoga session that I know will melt away the stress of the day!
The dim lighting, peaceful music, and scent of incense can all make your yoga class beautifully blissful. Another thing that can help you find the utmost peace during your yoga practice is clothing that feels so soft and comfy against your skin, it enhances that nourishing sensation even more.
Whether you're new to the practice or you're looking for a trendy new yoga outfit, here are the coziest athleisure clothes that will make you want to stay in savasana forever!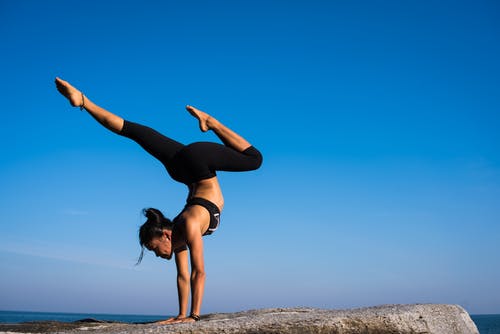 Second-skin yoga pants
First, let's talk about the fashion icon of yoga – leggings. Colorful, patterned yoga pants have become so popular with yogis not just in America, but all over the world.
What we love most about these athleisure garments is how they can sculpt to fit your form, maintain their shape, and allow your skin to breathe. We recommended the activewear from Fabletics, for yoga leggings that fit so well they feel like a second skin. Fabletics specialize in creating wellness clothing for comfort, style, and functionality.
We especially love second-skin seamless fabric styles made with super light compression. As well as being lightweight, seamless leggings are more flexible, breathable, and lounge-worthy, making them the perfect lazy Sunday outfit too.
Snuggly sweatshirts
With fall just around the corner, it's time to start layering up. As the temperature drops, ensure you have an extra layer on hand. Even after a sweaty vinyasa class, our body temperature can drop too quickly during the colder months. There's not much worse than feeling cold as you try to relax in your well-earned savasana. However, a soft, snuggly sweatshirt can help you stay warm and drop into a restful relaxation.
A cozy fleece hoodie with a dropped shoulder design and loose fit will feel like you're giving yourself a great big hug, thus, receiving a nourishing dose of self-love and self-care. We're also loving the ultra-soft tech terry fabric which creates a silky-smooth pullover, perfect for in and out of the studio.
Seamless Bralettes
We're absolutely in love with this new sports bra style! While a seamless bralette may not offer the support needed for high intensity exercises such as circuit training or HITT classes, this comfy but fashionable style is ideal for yoga and pilates classes.
Crafted in soft, ribbed fabric, the bralette offers versatility as it can be worn as a sports bra or a crop top. Moreover, the seamless design combined with adjustable straps and removable cups feels so comfy you'll never want to wear a proper bra again!
Combining these three comfy athleisure styles will keep you warm and snug throughout your yoga sessions this fall. And as activewear is an 'all-day' style, don't be surprised if you find yourself opting for this cozy outfit for movie nights, weekend brunches, and more!
Tammie~