Most women have always wished for a walk-in closet, filled with amazing clothes, but most of all with shoes. Women's shoes offer an almost infinite number of styles, colors, and purposes. They combine functionality with style, giving a lot of women confidence to take on the day. There are certain styles that are most appropriate for certain situations, be it due to their practicality or their beauty. The number of styles available can be quite overwhelming sometimes. Here are a few styles that you most definitely need to own.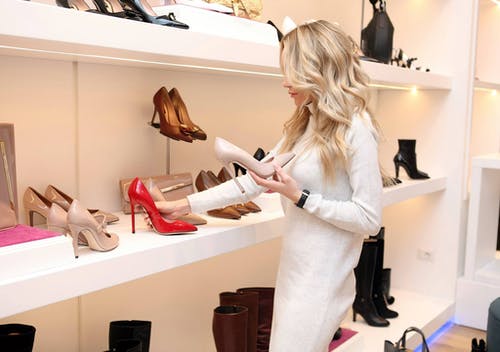 Wedges
Wedges or wedge heels fall under the category of casual shoes. They offer a more sophisticated look without having to bear the pain of wearing heels all day long. They have been voted as one of the most comfortable kinds of shoes by many women across the world.
Ballerinas
Ballerinas are your answer if you're looking for everyday footwear. These are considered an essential item in every woman's closet, giving you the ease of flats along with many fun designs to choose from.
Flip flops
Flip flops are considered the best summer shoes, perfect for spending a day at the beach. These are easy to wear, offer maximum comfort, and look great with casual outfits.
Stilettos
Every girl should have at least one pair of stilettos in her closet. These shoes have thin heels that start at the height range of  1 inch and go all the way up to 6 inches as well. It is extremely easy to pair stilettos with almost anything and online fashion companies such as JustFab opine black stilettos for their versatility. Apart from this, these heels often give the illusion of longer legs as well.
Gladiator sandals
Gladiator sandals were a major trend just a few years ago. These are strappy sandals, with a T shaped bar running down in the front. These look super cute if you're heading out for a vacation and want to wear something cute but practical with that amazing sundress.
Trainers
Trainers were made especially for the gym, doing yoga, or even for fashion. These shoes provide the most ultimate comfort and are extremely supportive for your feet. Your feet and lower back shall thank you for wearing trainers more often.
Court shoes
Court shoes are a style of heels that are mostly worn by women at their workplace. These compliment proper business attire having a small heel and a pointed toe. These shoes mostly look best in colors like beige, black or white but are available in many other colors as well.
Ankle boots
Ankle boots are always a good idea to invest in. They look great with everything, from trousers to even sundresses. They combine comfort with durability.
Military boots
Military boots are sturdy and chunky boots. These have laces in the front and give your outfit a tougher and stylish look.
There are almost countless kinds of shoes for women. It is much easier to look for the right kind of shoes for you when you know the different kinds available to you. Go over this list to better understand the different kinds of women's shoes.
Tammie~