I received the below mentioned complimentary product either for free or a discounted price for the purpose of this post. All opinion and thoughts are 100% my own.
If anyone is in need of an air purifier, It would be my home. I really never thought just how beneficial an air purifier could be for the people in my home. My husband suffers from allergies, I suffer from asthma and we have 2 cats and a dog. Plus we both smoke. I was beyond thrilled when I received the Dreamegg True HEPA Air Purifier to review. I have been reviewing this product for 4 weeks.
Dreamegg strives to help new parents take care of their babies to sleep in sweet dreams. The brand owner Robin Sun is a new Daddy and has been a professional product manager in the past 10 years. Robin Junior is always full of energy, curious about everything, and loves taking adventures at night. For helping Robin Junior get enough rest and sleep at night, Robin was trying to find any whie noise machines that are designed for baby use, but he did not find any regarding his "high-quality product standard". Therefore, he started to research and design to make a sound machine for sweet dreams and happy growing up.

Dreamegg puts all efforts to work with the professional studio to record and process the sounds such as the ocean, fan, and white noises. In order to get the most realistic and high quality shsher sound experience, we hired 30 different real people to record the sound in the studio. To improve the sleep for every newborn and people who want to sleep like a baby, we bring the Dreamegg products and service along with the best "Soak-in-all-in" sleep experience.
About The Dreamegg True HEPA Air Purifier~
【COMBACT ALLERGIES EFFECTIVELY】- HEPA filter is the top standard to effectively combact allergic particles. This allergy HEPA air purifier comes with improved 4-in-1 hepa air filter and features 360° huge air suction design, providing wide coverage to bring fresh healthy air around you. Swedish design and sleek size make it perfect for small or medium-sized rooms, ideal for bedroom, nursery room, basement, dorms, and offices.

【EASY USE WITH THOUGHTFUL FEATURES】- You Speak, We Listen. Choose from 4 fan speeds, 2/4/8 timer or sleep mode before heading to bed, and leave the rest to Dreamegg TR-8080. For new mom, ambient warm night light and child lock make it wonderful as a baby air purifier. With simple interface & touch buttons, fresh air at home is not a dream.

【SUPER QUIET FOR PEACE】 – Are you sound sensitive or a dark sleeper? Grab this 23dB super quiet air purifier! Sleep mode at night and then forget all about your air purifier while you sleep or you need a quiet environment. Display light can be turned off to enjoy a perfect sleep without any light.

【PET FAMILIES' CHOICE】– Trouble with pet dander or pet odors? TR-8080 is the perfect air purifier for pets. Features the special pet mode, it runs the air purifier at Turbo for 15min and Level III for 5min. This formulated mode is proven good at filtering unwanted odor allergies from pets and smokers, usually quickly by 30% than common purifiers. Bye Bye odors allergies, hi hi fresh air!

【FULL CERTIFIED, SUPERIOR SUPPORT 】– We offer qualified products and 365 days worry-free replacement warranty. Complies with California air resources board (CARB) for indoor cleaning devices, FCC ETL certified, this BPA-free air purifier leaves you no worry when considering as a gift. To keep you safe, Dreamegg is 100% ozone-free. Sleek, attractive and budget pick air purifier for your home, bedroom and baby.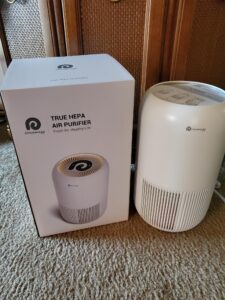 My Thoughts/Review~
Until I reviewed the Dreamegg True HEPA Air Purifier, I did not get all the hype over air purifiers. I do now! But all air purifiers are not created equal. They all offer different features. It is my opinion that if it does not have a hepa filter than you are not getting rid of the microscopic particles. Hepa filters can remove 99.7% of air particles and that includes particles that are 0.3 in size. When you smoke, have pets and allergies those tiny particles make all the difference. With 4 fan speeds, I love how quiet this machine is and all the features it offers. You can reduce the air in a small to mid size room with the Dreamegg True HEPA Air Purifier. You know the price is going to be right when one of the places it is sold on is Amazon. The Dreamegg True HEPA Air Purifier has everything I would look for in an air purifier. You will not go wrong when purchasing this air purifier.
Tammie~