I received the below mentioned complimentary product for the purpose of this review. All thoughts and opinions are 100% my own.
     Do you own a blood pressure machine? I used to be a Nurse before I got disabled and I am here to tell you just how important it is to own your own blood pressure monitor. I used to think this was only good for the elderly but in these days even the young adults could benefit from owning one. I was thrilled when the opportunity arose to review the Ozeri BP6T Rechargeable Blood Pressure Monitor Unit. This has to be by far the easiest product by far to operate.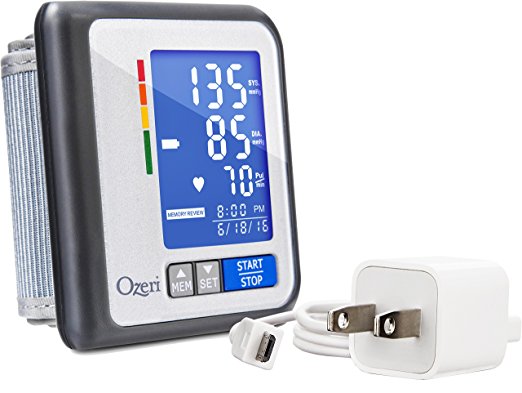 Some features I love about the Ozeri BP6T Rechargeable Blood Pressure Monitor Unit are:
Accurate and simple-to-use, the BP6T is less than 1″ (2.5cm) thick and weighs only 3.5 oz (100g).

Boasting a Best Rating from the Hammacher Schlemmer Institute, it stores 1197 blood pressure readings (399 x 3 users) with date and time recordings.

Fully automatic inflation and dynamic measurement technology that varies the inflation process according to real-time blood pressure detection to reduce measurement time and increase user comfort.

Automatic irregular heartbeat (Arrhythmia) and Hypertension detection, with push-button access to average blood pressure readings.

Portable, accurate, and simple-to-use wrist cuff design with clinically proven technology.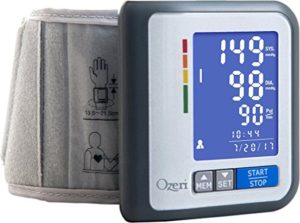 We were never allowed to use these wrist blood pressure monitors in the hospital as we were told that they were not accurate enough. Boy, Have these wrist monitors come a long way as they are now used in doctors offices, hospitals, clinics and all sort of medical places that I have forgotten. I see 13 specialist and all of them use these kind of wrist blood pressure monitors but I must say that the Ozeri BP6T Rechargeable Blood Pressure Monitor Unit is the one I like the best.
Product Description~
    Measuring less than an inch thick and weighing only 3.5 oz, the simple-to-use Ozeri Cardio Tech Travel Series BP6T Blood Pressure Monitor provides accurate measurements both on-the-go and at home. The BP6T Travel Series boasts a Best Rating from the Hammacher Schlemmer Institute for its accuracy and ease of use, where it achieved a 95% accuracy rating when compared to results from a cardiology nurse – the highest in its class. It features an advanced rechargeable wrist cuff monitor with MWI (Measure While Inflate) technology that reduces measurement time and maximizes comfort. With ample memory, the Ozeri BP6T Blood Pressure Monitor stores up to 1197 blood pressure readings with date and time memory recall (399 readings x 3 users), and automatically classifies each blood pressure reading according to American Heart Association hypertension guidelines using a color-coded guide for simplicity. It also calculates average blood pressure readings based on the 3 most recent readings, and detects irregular heartbeat (Arrhythmia) for an improved understanding of your heart's health. Backed by a 5 year warranty, the rechargeable Ozeri BP6T Blood Pressure Monitor ships with a charging adaptor, travel pouch and user manual.
     The Ozeri BP6T Rechargeable Blood Pressure Monitor is so very easy to use. You just wrap the strap around your wrist using the Velcro provided on it and press the button to start it. It will do it's thing and give you your reading. What I do is that I have a little notepad that and I write the reading, put the date of the readings and I take this to my doctors at my next appointment. If you get a high reading, You need to call your PCP immediately. It could be just a fluke or very serious and this is why your doctor needs to know this.
     I give the Ozeri BP6T Rechargeable Blood Pressure Monitor my thumbs up and my highest recommendation. This would make the perfect holiday gift for that special person on your gift list. I know you are going to want to own one for yourself or to give as a gift and you can get yours by going HERE.
Tammie~