If you would like to help your elderly parent without interfering with their life, still making sure that they are safe at home and can manage everyday tasks, there are a couple of ways you can provide support without invading their space. The worst thing you can do is making them to go to a nursing home and lose the freedom and independence their current lifestyle gives them. Below you'll find a few tips on how to keep them safe, but let them enjoy independent living.
Image via Public Domain Pictures
Day Care and Activities
It is a good idea to give your older relative a chance to socialize, especially if they are living alone. You can sign up for an elderly day care center that will pick them up a couple of days a week and take them out to the local park or community center. Remember that they will need a purpose in life, despite their reduced mobility.
Home Visits
If your older parent can do most of the things alone, but struggles with cooking and cleaning, you can get a home visitor to come and check on them every day. They can do their shopping, get their food cooked, and have a chat, breaking down the long days. A home visitor can also arrange home maintenance jobs and talk to contractors, so your parent will feel safe and doesn't have to worry about being cheated or forgetting about something. Check out nursing care options from Riddle to find out more about the personalized packages available for elderly people.   
Granny Annex
If you feel like you'd rather keep an eye on your older relative, you can build a prefabricated home for them on your property. They will be independent, but you can simply walk over or send the kids there to check on them. They can stay independent and feel safe knowing that you are only a few minutes away. If you work from home most of the time, you can also save money on nursing and care costs.
Home Modifications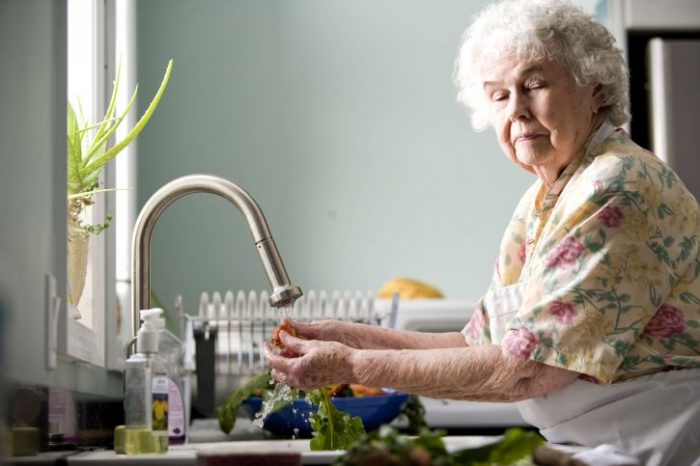 Image via Pixnio
Sometimes mobility aids and security improvements in the home will make a huge difference in older people's lives. If you want to help them, get the bathroom and kitchen adjusted to their needs. Don't forget to install warning bells around the house, if they have a health condition that can cause seizures.
Regular Checkups
It is also crucial that your parent gets regular checkups and their health is monitored by medical staff. They can either visit them every week to take their blood pressure and carry out tests, or you will have to visit a specialist department at your local hospital. No matter which option you choose, you need to take responsibility for keeping the appointments.
If you have started worrying about the health and safety of your older parent, you can help them in a way that you don't take away their independence and purpose in life. Sit down to discuss their options, and be understanding of their needs.
Tammie~