I received the below mentioned product either for free or a discounted price. All opinions and thoughts are 100% my own.
What do you brush your pets with? I always just used the standard pet brush to brush my 3 cats and my dog with. I was really looking for something better but was there such a thing? This is why I was thrilled when the review opportunity came about to review the New Improved 2 in 1 #Pet Grooming Glove Hair Removal Deshedding Tool.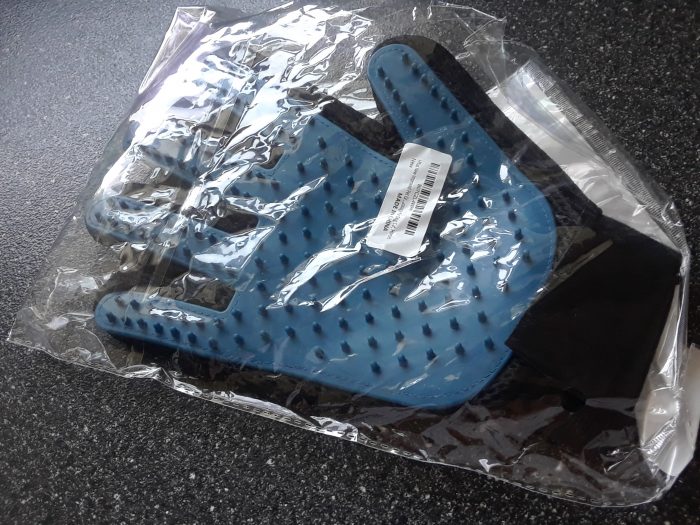 About The Product~
✔️PROVIDE SO MUCH COMFORT FOR YOUR FURRY ANIMAL FRIENDS: This Pet Deshedding Glove can be used over the whole body of your pets including legs, soft belly, tail, and even the head. All areas can actually be massaged, which the pets enjoys. This deshedding tool is for all furry animals like cat, dog, horse, rabbit, cattle, etc. We guarantee that your pet will love our Pet Hair Glove. Many pet groomers are already relying on it as one of the most outstanding glove brushes for eliminating shedding!

✔️PET HAIR DESHEDDING IS DONE WITH MUCH EASY AND PLEASURE: This Pet Grooming Glove unlike other brush is perfect for deshedding of your dogs, cats or other pets hair. Whether your pets has long or short fur, you won't have to deal with the messy hair around your pet again. This glove will perfectly takes care of them. More importantly you do this with so much pleasure playing with your pets. Deshed your animals while you're petting them.

✔️GENTLE MASSAGING ON YOUR PET SKIN: The Pet Grooming Glove won't harm your pet skin because of its gentleness on their skin. It is made of silicone which is soft and gentle on natural skin. It will improve coat quality of your dog – perhaps a benefit of massaging the skin and stimulating hair growth (more hair?? – better hair). Their coats are softer and glossier.

✔️THE SOFT BRISTLES MAKES YOUR PET FEELING RELAXED: The softness of the bristles on your pet makes them much more relaxed during hair removal, deshedding and massaging. This is the brush to get for desheding, you don't need any other one. Click the Buy Now Button and Place Your Order!

✔️2018 NEW AND IMPROVED UPGRADED VERSION: This Pet Grooming Brush is Upgraded with the front and back of each pair have deshedding and grooming effect unlike the former one that only the front has its purpose. This allows you to switch conveniently without having to remove the gloves from your hand. So ORDER NOW and enjoy the convenience of this Pet Grooming Glove that your animal friends will love.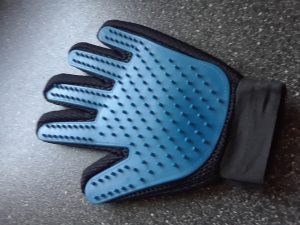 My Review/Thoughts~
When I opened the package and removed the product, I was very skeptical. I really did not think it was going to work but that was until I used it. It fits very comfortably on your hand and glides over your pets fur, Picking up all those loose strand of hair that are so very itchy and uncomfortable to your pet. Once I made several passes over my pets fur, All I had to do was lift one edge of fur off of the glove and the rest came with it. I was very impressed. It was so easy to use.
I highly recommend the New Improved 2 in 1 Pet Grooming Glove Hair Removal Deshedding Tool. I give this product my thumbs up. You can order one for your very own by going HERE.