I received the below mentioned product either for free or a discounted price for the purpose of this post. All opinions and thoughts are 100% my own.
Do you need a completely dark room in order to sleep? I used to blame my sleepless nights on my medical conditions but in reality, All I needed was a pitch black room. This is why I was thrilled when the opportunity came about to review the TANGCISON Eye Mask Sleep Mask, 2 Pack 3D Eye Mask for Sleeping, Bamboo and Cotton Material Eyeshade, Sleep Eye Mask with Adjustable Strap for Women and Men (Black and Rose Red) by TANGCISON.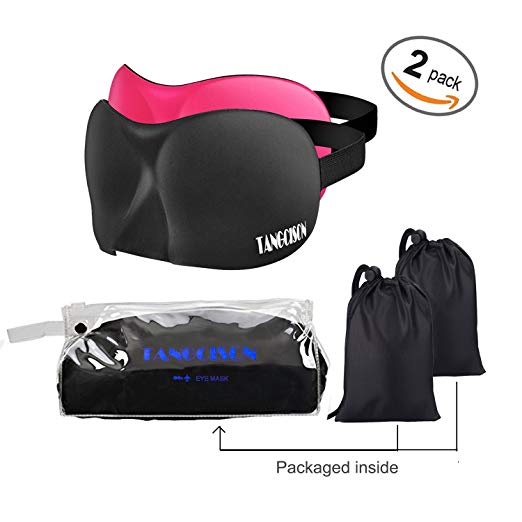 About The Sleep Mask~
1. Lightweight & Comfortable:Our eye mask for sleeping is made from high density memory foam that consists of bamboo and cotton, which allows your skin to breath throughout the night. The eye mask is soft and comfortable to wear, helps you get a restful sleep.

2. Light Blocking: The eye mask molds around the contour of your face,nose and eyes in order to reduced light leaking in to a minimum.

3. 3D Deep Eye Cavities: The eye mask for sleeping features deep eye cavities so that your eye won't touch the eye mask. The eye mask has concave eye pockets to keep the sleep mask away from your eyes, which means that you can use it while having your makeup perfectly intact.

4. High Quality:The eye mask for sleeping is proven to be anti-fade, anti-bacterial and anti-mite. CNC lathes are used in the operation to create a smooth and firm finish of the eye mask.Our eye mask have FDA certificate.

5. Adjustable Strap and Travel Pouch: The strap of the eye mask for sleeping is fully adjustable with a Velcro that allow you to achieve a perfect fit.The eyeshade can be a 10cm range which adjusts to 20cm. Easy to carry with travel pouch.

My Review~
I have in the past have had terrible sleeping due to light escaping in. I do need a pitch dark room to sleep. This is not an issue anymore as the sleep mask works if I am taking a nap during the day or when I go to sleep at night. This sleep mask is awesome. I love everything about it from the way it feels to how well it blocks out the light. If you are having trouble sleeping due to light, Then I highly recommend this product to you. This would make an awesome gift for anyone on your list and it is very affordable.
I give the TANGCISON Eye Mask Sleep Mask my thumbs up and my highest recommendation. You can order one for yourself or as a gift by going HERE.
Tammie~