I received the below complimentary product either for free or a discounted price for the purpose of this post. All opinions and thoughts are 100% my own.
About The Product/Company~
Cookies by Design, a woman owned business, was founded in 1983 by Gwen Willhite. Gwen had the idea of making a gift suitable for not only women, but men as well; a gift that he would be excited to receive at his workplace. So she combined two traditional gifts of flowers and sweets and created a deliciously clever concept: the cookie bouquet. Her edible bouquets of custom-shaped and hand-decorated sugar and cinnamon brown sugar cookies on sticks were cleverly arranged in baskets as tasteful gifts for any holiday or occasion. These impressive gifts were instant hits among men and women alike especially because the product tasted as good as it looked and Gwen's budding enterprise soon outgrew her own home kitchen.

The newly successful entrepreneur moved to a location in nearby, Tulsa, Oklahoma. Then in 1986 when things really picked up, Gwen moved her business to Dallas, Texas. After the Dallas business was established, Gwen turned her attention to the numerous requests from others wishing to start their own Cookie Bouquet franchise. The first franchised Cookie Bouquet location opened in 1987 and the momentum has been growing ever since. To better reflect all of the creative, unique and customized products sold, Cookie Bouquet locations changed their names to "Cookies by Design" and launched the cookiesbydesign.com website to capitalize on the growing ecommerce market.

Holiday Gift Baskets

The holiday season is here! The perfect way to celebrate is to treat your family and friends to holiday gift baskets filled with fresh baked cookies and treats. With a variety of options to choose from, there is a special gift for everyone on your list and gift basket delivery is available right to their doorstep. Who wouldn't love to receive fresh baked, hand crafted Christmas cookies, gourmet cookies, brownies or truffles?

Christmas Cookies

The holidays wouldn't be complete without tasty fresh baked, hand decorated Christmas cookies. If you haven't the time to roll the dough, cut out, bake and decorate the cookies yourself, don't' worry we have you covered. We take pride in creating hand decorated Christmas cookies just like you would in your kitchen and we will deliver them right to your doorstep in time for the holiday festivities.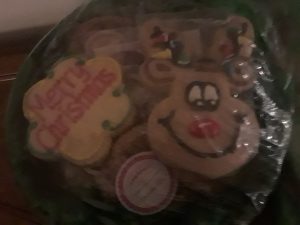 My Reviews/Thoughts~
Who doesn't love to receive a gift of food especially if they are cookies. I know in my home that is our favorite thing to receive. Everyone loves a good cookie and you are not being honest if you say you don't. I was so very happy that I found Cookies By Design as I received a beautiful Christmas Basket and a Christmas Cookie Tray. Along with Christmas cookies in the basket were gourmet cookies that I of course taste tested each and every one of them. No judging please. They were the best. In the Christmas Cookie Tray were Holiday shapes such as candy canes, Christmas trees, snowmen and ginger bread men. They are so very helpful. You owe it to yourself and your gift recipient to send them something delicious and that is something from Cookies By Design.
I highly recommend Cookies By Design and give them my thumbs up. You can go Here to order one for your very own or to give as a gift. You will love it~
Tammie~