I received the below mentioned complimentary product either for free or a discounted price for the purpose of this review. All opinions are 100% my own.
DESKTOP DIAL with AUTO DIMMING: Thanks to the built-in ambient light sensor in the Desktop Dial, ScreenBar Plus e-Reading Lamp adjusts the brightness level automatically with just one click. You can press the dial to turn on/off and rotate to change brightness and color temperature manually. Easy to use with precision.

SPACE SAVING: A specially designed clip makes the attachment onto monitors easy and stable. No need for screws or tape that damage monitors. The clip fits any monitor with thickness from 0.4" to 1.2" (1 to 3 cm).

SCREEN GLARE FREE: ScreenBar Plus e-Reading Lamp has an asymmetrical optical design that only illuminates the desk and ensures zero reflective glare off the screen.

USB POWERED: Any USB outlet can power the ScreenBar Plus e-Reading Lamp, whether it is a computer, phone charger or power bank. Once turned on, ScreenBar Plus resumes your last used brightness and color temperature settings to welcome you back!

MOOD LIGHTING: Adjustable color temperature to increase focus and comfort. The warm light lets you relax and replenishes your energy. The cool light allows you to concentrate and boosts work efficiency. You can fine-tune from the warmest of 2700K to the coolest of 6500K with the Desktop Dial.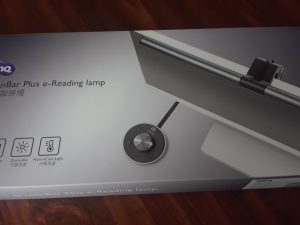 My Thoughts/Review~
I have vision issues where having a properly lite work space is everything. When I first started blogging, 10+ years ago, I could get away with dim light but now I look for items that are beneficial to help me see what I am doing. Not only can I attach the bar to my laptop but I can attach it to my such places as my cubicle at the office to help illuminate my area. The screen bar was super easy to set up. I am in love with this product from BenQ.
This would make the perfect Holiday gift for that special person on your gift list. This is being sold on Amazon-So you know you are getting the lowest price possible. You can go HERE to buy one for your very own.
Tammie~