I received the below mentioned complimentary product either for free or a discounted price for the purpose of this post. All opinions and thoughts are 100% my own.
Cooking is something my husband excels at. Eating is something I excel at. The one thing I learned is that seasoned or seasoning your food makes it so much more flavorful. When it comes to salt and pepper, There can just be to many bottles on the table. For this reason, I was thrilled when the review opportunity came about to review the Maya Mountain Salt and Pepper Mill with Ceramic Burr.
About Maya Mountain~
In 2015, Eric and Cindy Noel disembarked from a Carnival cruise ship in Belize City.  They were quickly whisked through a chain-link gate onto a waiting bus to take them to Al-tun-ha, a spectacular display of ancient Mayan civilization.  On the way, they noticed impoverished villages, roads, schools, and shops in what most would consider to be in disrepair and realized that life brought many challenges to these villagers…they knew in some way, some day, they would return.

In the fall of 2015, Eric and Cindy met a couple who had been serving people in Belize for 20+ years helping to develop a sewing ministry. They joined them and The Word at Work in 2016 to spend 10 days on a visioning trip where they would get to know many servants throughout Belize.  Visiting children's homes, rescue shelters, and the only prison in Belize, the need for help growing food was apparent, and also desperately sought after.  With their background in agriculture and food preparation, Eric and Cindy returned from this trip and began focusing on raising funds to return in 2017 – which they did – for 40 days in fact!   The rest is beginning to be history…

2017

Seeking remote villages to work with farmers, families and schools, Eric and Cindy have begun to build strong, fruitful and tremendously rewarding relationships.  Backyard garden projects, community gardens at primary schools, food preparation and preservation training, developing seed banks, providing educational sponsorships, providing seeds and equipment for increased crop production and processing and micro-financing loans for small business start-ups are just some of the projects that are underway.

Our work in Belize was facilitated by many great people – from north to south in this amazing country of resourceful, hard-working people.  We are grateful for the time they extended to us to help familiarize us with the people and the land.  Now, as we set out on our own, adventurously seeking to find additional villages to connect with, we look forward with great excitement to what lies ahead.

TODAY

Maya Mountain was founded and is run by farmers.  We understand that the global food system doesn't always play fair.  That's why we invite you to join us in doing good in 2 ways.

First, when purchasing from Maya Mountain, you're buying products that ensure farmers can provide financial stability for their family.

Secondly, 10% of all profits are donated back to nonprofits working with communities in southern Belize.

You can be part of this adventure with us by purchasing some of the highest quality spices nature has to offer.
This attractive salt and pepper mill is perfect for those who enjoy the enhanced flavor of freshly ground spices.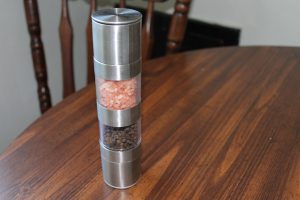 My Review/Thoughts~
I love freshly ground spices. There is nothing better than to be able to do this at the dinner table. To add another layer of freshly ground spices right before you eat it makes the flavors of the dish out of this world. One thing about the Maya Mountain Salt and Pepper Mill is that is salt and pepper  both in one container that grinds them both as needed and how much you need. There is nothing better tasting than freshly ground spices of salt and pepper. Not only is the design sleek and elegant but it is super easy to use. The Maya Mountain Salt and Pepper Mill is very affordable. You can either purchase one on their site or at local farmer markets.
Tammie~