I Received The Below Mentioned Complimentary Product Either For Free Or A Discounted Price For The Purpose Of This Post. All Opinions And Thoughts Are 100% My Own.
All of my friends say they could not live without their Multipot. I must be the last one to jump on the Multipot band wagon. I still had to see what all the hype was all about. I was thrilled when I was offered the chance to review the Mealthy Multipot to review for my 2019 Holiday Gift Guide.

Get home from work, Make dinner for the family and then wash and clean up the kitchen. By wash, I mean wash the multiple pots and pans that come with making dinner. The one thing I love about the Mealthy MultiPot is that it make meals in minutes and all in one appliance.
About The Mealthy MultiPot~
Make meals in minutes with the Mealthy MultiPot. The MultiPot has everything you need in one beautiful and convenient appliance: pressure cooker, slow cooker, steamer, rice cooker, yogurt maker, sauté pan, and much more! The Mealthy MultiPot is 100% BPA-Free and made of the highest quality materials including professional-grade SUS304 stainless steel and brilliant LCD screen.

Life is busy, you've got a million things to do, and dinner is just another item on your to-do list. A healthy, fresh, and delicious dinner won't make itself, and you don't have all day to sweat in front of the stove or watch the oven. Don't worry; we've got you. Because Mealthy gets you.

We've designed and built the MultiPot to anticipate everything you need. Featuring 14 preset pressure cooking programs and 9-in-1 cooking functionality, you can pressure cook, sauté, steam, bake, slow cook, and more, all in one pot and all at just the touch of a button! Get mouthwatering meals cooked and on the table 70% faster – your family, calendar, and general sanity will thank you.

100% Satisfaction Guarantee

Your happiness is our primary concern, which is why Mealthy products come with a 100% Satisfaction Guarantee. If for any reason you're not in love with your MultiPot, let us know and we'll get you a refund.
I decided to make a recipe from the Mealthy smart phone app. I chose to make Beef Stew. It is the perfect time of the year for it.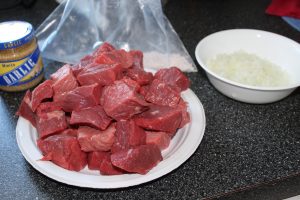 I will never make Beef Stew any other way. The broth was not to thick. It was just right. The flavors were perfect. Everything about this dish was perfect. My husband who is very picky ate most of the stew. I was lucky to get a few bowls.
Mealthy Multipot Beef Stew
Ingredients
1/4 cup all-purpose flour
2 teaspoons kosher salt, divided
1 teaspoon paprika
1 teaspoon ground black pepper
2 pounds beef chuck roast, trimmed and cut into 1½-inch cubes
2 tablespoons olive oil
2 tablespoons unsalted butter
1 yellow onion, diced
3 cloves garlic, minced
1 cup dry red wine
2 cups beef broth
1 tablespoon Italian seasoning
2 teaspoons Worcestershire sauce
4 cups chopped red potatoes
3 cups ½-inch carrot chunks
salt and ground black pepper to taste
chopped fresh parsley to taste
Instructions
Combine flour, 1 teaspoon salt, paprika, and black pepper in a gallon-size resealable plastic bag. Seal and shake to mix ingredients. Add beef to bag, seal, and shake to coat.
Heat oil and butter in inner steel pot of pressure cooker set to Sauté on Normal.
Working in batches, cook beef in hot oil and butter until browned, 5 to 10 minutes per batch; transfer with a slotted spoon to a plate.
Cook onion in the remaining oil until translucent, about 5 minutes; add garlic and cook until fragrant, about 30 seconds.
Pour wine into the pot to deglaze, scraping browned bits of food from the bottom of the pan with a wooden flat-edged utensil; add beef stock, Italian seasoning, Worcestershire sauce, and remaining 1 teaspoon salt.
Return beef to the pot; add potatoes and carrots.
Press Cancel on pressure cooker.
Lock pressure cooker lid in place and set steam vent to Sealing. Select Meat/Stew and cook for 35 minutes on High pressure.
Allow pressure to release naturally for 10 minutes, then set steam vent to Venting to quick-release remaining pressure.
Season stew with salt and ground black pepper; ladle into bowls and garnish with parsley.
https://tpankuch.com/2019/10/mealthy-multipot-review-hgg19/
My Review/Thoughts~
Once I saw and realized all of the awesome things that the Mealthy MultiPot could make and do, I had to decide on 1 of the hundreds of recipes to try in it. As you can see by the approve, It was huge success. I remember the old days when my mom had what looked like a sauce pan with a lid that locked on and had a dial on it….just one. With the Mealthy Multipot, You can everything in one appliance which means one pot clean up. The thoughts from everyone who owns a multipot were correct. This is know my go to cooking product. This would make the perfect holiday gift idea for that foodie on your gift list.
I highly recommend the Mealthy Multipot and give it my seal of approval. You can go HERE to buy one for your very own or to give it as gift.
Related Posts :
Tammie~