I received the below mentioned complimentary product for the purpose of this review. Whether or not you agree, All opinions and thoughts are 100% my own.
Do you have a favorite shoe brand? I thought I did but then aren't they all the same? I am here to tell you that they are not. I was thrilled when the opportunity cam about to review a pair of Lugz Men's Drifter 6 ST Wide for my 2017 Holiday Gift Guide. These would make the PERFECT gift for that man in your life!About Lugz~
Company Background

Always an innovator and leader in footwear, Lugz first made a name for itself in October of 1993, bringing its first line of boots to market, with the initial product consisting of two styles of boots, a quilted vest and a pair of jeans.

Soon Lugz was endorsed by key players from the world of hip hop and has continued to do so through out the years. One such collaboration led Lugz to breathe life to a whole new category of footwear with the introduction of the first ever celebrity-endorsed "Funk Master Flex" urban driving shoe. This was only the beginning as support then lead to a collaborative line with hip-hop superstar Bryan "Baby" Williams, aka "Birdman" with his own series of sneakers and boots.

In 2006 Orange County Choppers, the world's premier builders of custom motorcycles signed on to endorse Lugz shoes, which they were already wearing so it was a natural fit. With its aggressive "built for the streets" reputation Lugz collaborated with Paul Teutul, Jr. to create a signature Lugz shoe "the Torx" which interpreted this incredibly well.

In the fall of 2008 Lugz shot on to the Mixed Martial Arts scene signing its first two MMA fighters, Lyoto Machida and Houston Alexander as endorsers. Machida captured the title of UFC Light Heavyweight Champion as he represented Lugz. With MMA becoming the fastest growing sport/entertainment platform with an increasingly growing fan base, Lugz was excited to be apart of this growing trend and later signed Quinton "Rampage" Jackson. In 2010 Cain Velasquez became the newest endorser of Lugz.; immediately after signing, Cain fought to become UFC World Heavyweight Champion. In 2011, Lugz continued to grow its Team – signing UFC Welterweight Josh Koscheck and UFC Light Heavyweight Phil Davis.

From its inception, Lugz footwear has been an innovator in the footwear market from its signature styles, to creating trendsetting styles beyond boots and has added casual shoes and athletics to the mix for the Lugz men, Lugz women and Lugz kids lines.
About The Drifter~
DESCRIPTION:
The Men's Drifter 6 ST Wide is an update on the classic and timeless Drifter. With a rugged appeal for the perfect look, this casual and durable steel toe 6 inch wide width boot features work-boot styling, a water resistant upper, a flexastride memory foam insole and a slip resistant rubber outsole for excellent traction and comfort.
DETAILS:
Water resistant thermabuck upper
Steel toe for maximum protection
Work boot styling
Lace-up front with metal eyelets
Flexstride memory foam insole
ASTM-F1677, Mark II tested slip resistant rubber sole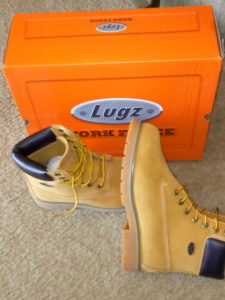 My Review/Thoughts~
The Lugz Drifter 6 ST WIDE is by far the most comfortable boot my husband has ever worn. His words not mine. I can also tell you from experience that the material the shoes are made out of can with stand chemicals as my husband used to work for a major carpet cleaning company where he would have to buy new boots every 2 to 3 months but with Lugz boots- He would have to replace them every 9 months to a year. You not only get comfort but you get cost savings all wrapped up in one. I'd say that is a win-win in my book.
I give this product my thumbs up and I highly recommend it as a Holiday gift or an everyday gift.
Please give our sponsor some love~ by following/liking them on facebook, Twitter, Pinterest and Instagram.
Also, Watch for our giveaway where 1 reader will win a pair of DRIFTER 6 ST WIDE in their choice of size and color to start in a few days. Check back for the link to it.
Tammie~