I received the below mentioned complimentary product either for free or a discounted price for the purpose of this review. All opinions and thoughts are 100% my own.
How do you keep your laptop from overheating? I bought my first laptop and then came blogging. When I first started blogging, I was on the computer for 12 to 16 hours a day. That put some major strain on my laptop. I was very new to owning this piece of technology but I had a few tech geeks as friends and I asked them what I should do and that is when I learned what a cooling pad was. This why I was thrilled when the review opportunity came about for the Vencci Laptop Cooler Chill Mat.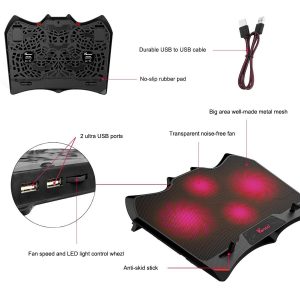 【Cool Shape Design】8 Red LED lights in 4 fans with bat-inspired shape, this Vencci laptop cooling pad is designed for those gamers and bat-lovers, it is very cool to work or play with this notebook cooler.

【Faster Gaming Performance】With the laptop cooling fan, by preventing the CPU and GPU from heating up so much that they will damage themselves, this cooler will allow them to run at their optional performance range especially when gaming.

【High Quality Build】Slim(1″), lightweight(1.54lb), big-size(mesh area 16″), the laptop pad is bulit with 2 big 125mm fans and 2 small 80mm fans, 1500 RPM, 50-70CFM aire flow, 5V 2 USB ports, adjustable control wheel, anti-slip pad, three adjutable height holder, it is good for using at home or in the office.

【Wide Compatibility】Three level adjustable height, you can use the notebook backpack cooler wherever and whenever you want. With big 16″ mesh area, the pc cooling pad is compatible with almost 10″-16″ laptop notebook such as some maintream brand of HP, Dell, Macbook, Asus, Acer, Samsung, Microsoft, Lenovo, Thinkpad, Toshiba, Alienware.

【1 Year Warranty】We stand behind all our Vencci products with a full 12 month warranty, actually solve your problem's 24 hours warm customer service. Any question, please feel free to contact us.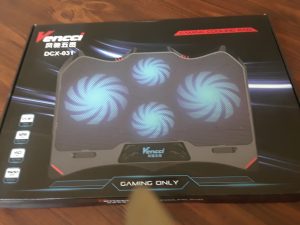 My Thoughts/Review~
I have been through several cooling pads and most of then did not hold their own. The Vencci Laptop Cooler Chill Mat has has it all. It was built for those gamer whose laptops were overheating. It also is just perfect for anyone who uses a laptop. I love how quiet the 4 fans are. I also love that it has feet and the 2 raised posts to keep your laptop in place. It is powered by your USB and I love that. There are so many positive points to this product that I cannot find one bad one.
 I give the Vencci Laptop Cooler Chill my thumbs up and my highest recommendation. You can order one for your very own by going HERE.