I received the below mentioned product either for free or a discounted price. All opinions and thoughts are 100% my own.
Do you dress your pet up for Halloween? Let me tell you that I would have never thought about dressing mine up until the review opportunity came about to review the Puppy Pumpkin Costume T-Shirt came about. Now it is for a small dog or cat so that leaves out my 2 labs who are as big as a horse. So 1 of my cats is going to be a guinea pig. LOL!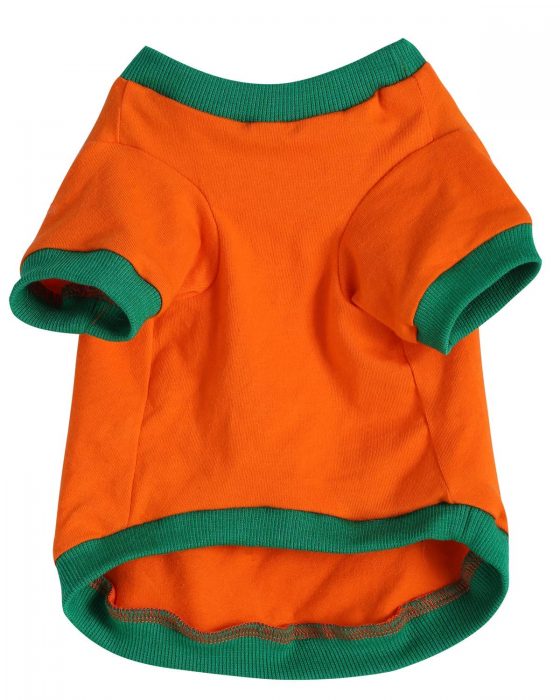 About The Angepepe Pet Halloween Puppy Pumpkin Costume T-Shirt~
Size:Medium(5.5lb-8.8lb)  |  Color:Orange- My choice of size 
Size Chart:
Size—-Neck————-Chest———–Clothes Length
S——-24cm/9.4inches——-36cm/14.2inches—– 24cm/9.4inches
M——-28cm/11.0inches——42cm/16.5inches—– 29cm/11.4inches
L——-32cm/12.6inches——48cm/18.9inches—– 34cm/13.4inches
XL——36cm/14.2inches——54cm/21.3inches—– 39cm/15.4inches
2XL—–40cm/15.7inches——60cm/23.6inches—– 44cm/17.3inches
Please CHECK dimensions carefully before you decide which size to buy.
Size up if your pet's body length is longer than normal.
Made of a very soft fabric. Does stretch but also keeps it shape.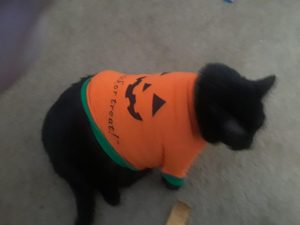 My Review~
We had such a blast putting the costume on our cat and then parading her around. I do not think she had fun at all but we did. I love everything about this costume. It was soft and looked adorable on her as you can see by this pics below.  Whether you plan to make your pet's costume yourself or go with a store-bought option, you'll need some inspiration. This product is all the rage. No matter what costume you choose this Halloween, we're sure your pet will look cute as a button! It was so very easy to put on Harley. You owe it to yourself  to get int for your very own.
I highly recommend this product and give it my thumbs up. You can order one for your very own by going HERE.
Tammie~