I received the below mentioned complimentary product either for free or a discounted price for the purpose of this post. All opinions and thoughts are 100% my own.
Scales are not all the same. I used to think they were until I was approached to review the EatSmart Bluetooth Precision Smart Scale With Body Composition which I quickly jumped at the opportunity. I did not think my old scale was cutting it. Ever since I started on the Keto diet, I have been weighting myself once a week as I found out that weighting myself daily was not giving me a true number.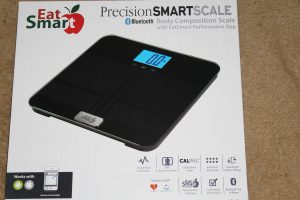 About EatSmart~
Every EatSmart product carries our 100% EatSmart Satisfaction Guarantee, which is our pledge to you.

This pledge ensures that every item you purchase from EatSmart, regardless of retailer, meets your high standard – or you can return it for a replacement or refund.

Our Guarantee to the Community

EatSmart is not only dedicated to bettering the lives of our customers, we are also committed to making a difference in the world. Every month we make a donation to a different charity from the sales of our products. As we continue to grow, EatSmart will be contributing to local community events which support healthy, active lifestyles. If you have any ideas or want to work with EatSmart, please fill out the form on the Contact Us section and send us an email.​
Take the next step in your fitness goals with the EatSmart Precision Body Composition Bluetooth scale. This scale allows you to easily calculate BMI and Cal-Max™, and measure your weight, body fat, body water, muscle mass, and bone mass using our new ITO BIA technology. Track information for up to 8 users using auto-recognition software on either your scale, our EatSmart Performance app or through another available compatible app. The durable 12.4″ x 12.4″ glass platform fits nicely into a variety of bathroom settings while offering a quality design. Easily read the on screen information from a 3″ x 2″ blue backlit display with white digits. Accurately measure weight in pounds or kilograms up to 440 lbs in 0.2 lb increments.
The Eatsmart Performance App can be found on iTunes or Google Play.
My Review/Thoughts~
If I was ever in love with a scale it would be the EatSmart Bluetooth Precision Smart Scale With Body Composition. This scale literally does it all. It does really help my fitness goals. I walk 1 mile on a treadmill everyday. Because I can only do no-impact exercises, I always wonder if it is really doing me any good. I can very easily download the free app on my smartphone. I love being able to keep track of my progress or even my decline. I pray my declines are very minimal but it does happen. Calculating my BMI has always been an issue for me. With the EatSmart Bluetooth Precision Smart Scale With Body Composition, It is a piece of cake. If you follow the instructions on the app, It walks you through how to connect your scale to the smartphone. Gotta love modern technology. This scale is indeed a game changer!
Tammie~