I received the below mentioned complimentary product either for free or a discounted price for the purpose of this post. All opinions and thoughts are 100% my own.
We never have enough spoons in my house. Be it that they get thrown in the garbage, left in bedrooms or just lost, We never have enough spoons. This is why I was thrilled when the opportunity came about to review the  Stainless Steel Set Of 12 Solike Spoons in 4 Sizes.

About The Product~
The mixing spoon is easy to clean, the dishwasher is safe, durable and difficult to bend.

Tea spoons are superior to similar products on the market, modern, comfortable and easy to mix with existing tableware

Coffee spoon set Simple appearance, no extra annoying decoration, classic design, suitable for any style of kitchen tableware

Stainless steel coffee spoon: Made of 188 stainless steel with thick food grade material, it is environmentally friendly and easy to use. It is ultra-finely treated and rejects burrs on the edges. It can be used with confidence.

Brand guarantee: Every tableware has our trademark, you don't have to worry about after-sales problem, because we will give you a one-year return service, if there is any place that is not completely satisfactory, please contact us, we will promptly refund or replace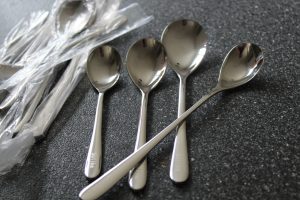 My Review/Thoughts~
It amazes me that you never have enough spoons. Reviewing the Stainless Steel Set Of 12 Solike Spoons in 4 Sizes was a dream come true. I love the design. I love how their is a spoon for every need. I would like to get a whole set of this tableware. It is is dishwasher safe. There is a spoon for such things as your coffee, Your desert, Your soup and even your iced tea. Having a one year return policy is perfect and unheard of. You owe it to yourself to get a set for yourself or as a great gift for someone.
I give the Stainless Steel Set Of 12 Solike Spoons in 4 Sizes my thumbs up and my seal of approval.