I Received The Below Mentioned Complimentary Product Either For Free Or A Discounted Price For The Purpose Of This Post. All Opinions And Thoughts Are 100% My Own.
Getting my clothes to the cleaners seems to not happen. I do not have a clue why is seems like so much trouble to get them there. So they would never get cleaned as putting them into the wash at home was not feasible but that was until now. I was over the moon when the opportunity came about to review the Dryel At Home Dry Cleaner system. This is going to be a game changer.
About The Dryel At Home Dry Cleaner~
THE ORIGINAL AT-HOME DRY CLEANER
Dryel is the best way to safely and thoroughly clean your special care clothes at home. The Fabric Protection Bag protects clothes and concentrates the gentle cleaning vapor from the Dryer Activated cleaning cloth for optimal cleaning performance. No fading, shrinking, or stretching like is often caused by wet washing or dry cleaning.
Dryel works in the convenience of your dryer in as little as 15 minutes and saves up to 90% of the cost of dry cleaning. So, when you have suits, dresses, or even jeans and sweaters that need to be cleaned, skip the hassle, expense, and harsh chemicals of the dry cleaner. Choose Dryel instead.
Also try the NEW Dryel On-the-Go Stain Pen!
Dryel® uses a specific process to clean your dry clean only and special care clothes.
The heat of your dryer activates the cleaning solution in the Dryer Activated cleaning cloth to release a steam that removes body soils and odors from the clothes.
The Fabric Protection Bag maintains the optimal balance of cleaning agents and heat, allowing the steam to work thoroughly through the clothes, and then slowly vents the vapors out of the bag and dryer.
Dryel Booster Spray includes extra cleaning agents to remove stains, and add freshness to heavily soiled areas prior to putting the garments through the in-dryer system.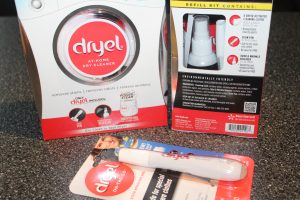 My Review/Thoughts~
Dry cleaning works by the power of steam. I do not know why it is so hard for me to get to the dry cleaners but now I can do this at home with the Dryel system. So very easy to use and very clear to follow directions. Your clothes come our of the dryer the very best I have ever saw them look. I cannot see me cleaning these clothes any other way. I am very impressed with the Dryel. This will save me a ton of money and time. Dryel is also small enough to pack in your case to take on vacation. So why not take it with you. The Dryel pen is a must have to throw in your purse for quick touch ups. I know you will be impressed with just how well Dryel works.
I give Dryel my seal of approval and my thumbs up. Dryel is sold a local retail stores.
Tammie~